Job category: Sales & Marketing

Location: Tilburg
Education Level: Bachelor or Master

Contract: Permanent

Work experience: Starter or 1 – 3 years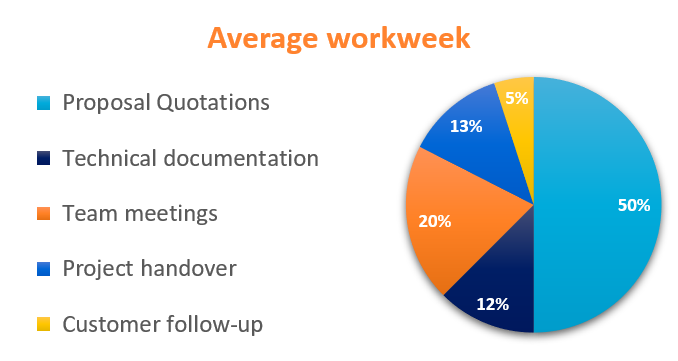 Ready for a new journey?  
As a Sales Engineer you give technical, commercial and legal support to services projects related to repair, modifications and new build Propulsion Equipment for the maritime industry. You will be involved in multiple international service assignments from the early sales phase, up to the sales offering and deal transfer to the project teams and Network offices. In general, you are involved in 20 to 30 very technical diverse projects simultaneously.
We are looking for an energetic and ambitious, enthusiastic and technical commercial talent to join our team. You will become part of a diverse team of ten persons.
What's on your schedule
Generate the sales support offerings, including the formulation of technical and commercial documentation for solution proposals.
Make sales price calculations for components, sub-assemblies, installations, repairs, upgrades, training, studies and technical solutions.
Coordinate the deal transfer from the sales department to Projects and Engineering.
Determine the content and scope of solutions for a proposal quotation.
Checklist
Bachelor or master's degree in mechanical engineering, Navel Architecture of equivalent.
Customer and supplier-oriented, are self-reliant
Strong analytical thinking capability and excellent communication skills in English
Ability to work independently as well as in an international team.
What's there for you
Being part of a multinational team where you have the opportunity to further develop your talents and competencies.
A variety of training activities, learning solutions and self-study materials.
Excellent primary and secondary terms of employment and a healthy work-life balance
Good to know
The company is a global leader in marine technologies and complete lifecycle solutions. By emphasizing sustainable innovation, total efficiency and data analytics, it maximizes the environmental and economic performance of the vessels of its customers. The company is a worldwide operating organization with service, R&D, engineering and production locations in every continent.
Does this sound like the opportunity you've been waiting for? Apply here below! We would like to receive a resume as well as a motivation letter. An assessment could be part of the selection procedure.
In case you have any additional questions, please feel free to contact Dre Schellekens via email: boostyourcareer @ jointhedutch.com