Job category: Research & Development
Location: Arnhem
Education Level: Master or PhD
Contract: Permanent
Work experience: 1 – 3 years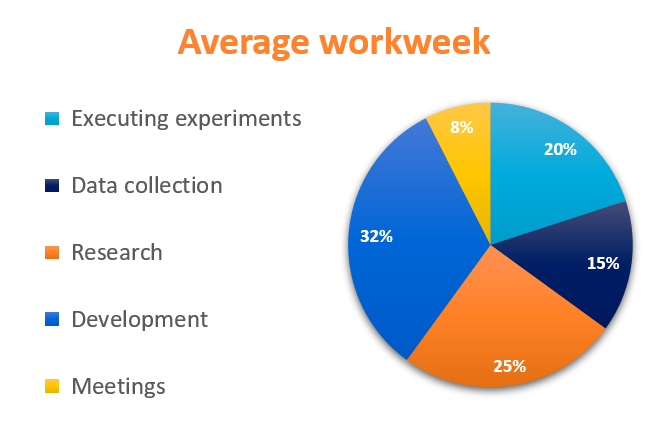 Are you curious to know about others experiences living in The Netherlands? Read Fabio's experience here!
Ready for a new journey?  
Do you want to create sustainable technology and build a better future for the planet and humanity? Are you looking forward to being part of an innovative environment that develops such technology?
In this role, you will investigate technologies which can be used for creating innovative health solutions. Next to research, you will perform experimental field-trials with clinical partners. You will work in a multidisciplinary team and your focus will be about creating impact in a new group of engineers and medical, data and food technologists. In such an interdisciplinary team, you will work on innovations that are immediately applied and tested in field labs with our research and industrial partners.
What's on your schedule
Research about biomedical and nutrition applications.
Execute experiments and trials on sensors to verify if the chosen concept works.
Set up and execute data collection campaigns aimed at validating sensors and algorithms.
Create methods to evaluate and analyze the performance of sensors and algorithms.
Develop and evaluate algorithms to estimate the physiological parameters in real-time, using signals from wearable sensors.
Create biomedical models to relate sensor data to physiological parameters.

Checklist
Master's degree or PhD in Biomedical Engineering or a similar field.
4 years of experience in this domain.
Experience with data collection on human subjects (wearables, medical equipment, biology, nutrition…)
Experience with designing and executing experiments and the analysis of data.
Knowledge of Python or MATLAB.
Effective communication in written and spoken English.
Hands-on, proactive and solving problems attitude.
Interested in a broad range of health-related topics such as nutrition, behaviour, biology.
What's there for you
Healthy work-life balance.
Competitive salary.
100% employer-paid pension plan.
Flexible working hours.
Training opportunities.
International environment at the forefront of technology.
Good to know
The company is a research and innovation center that provides value to local, national and international stakeholders. Working in collaboration with renowned and globally respected research institutes and universities, this company researches and develops digital technology innovations in food, agriculture and health to create a healthier future. By working together with the industry, using and bringing together great ideas, innovations and digital technologies from different disciplines, they bring new technologies to the market that will have an impact on tomorrow's society.
Does this sound like the opportunity you've been waiting for? Apply here below! We would like to receive a resume as well as a motivation letter. An assessment could be part of the selection procedure.
In case you have any additional questions, please feel free to contact Ana Crehuet via email: ana @ jointhedutch.com